Nursing Students Spark, Stimulate and Support West Marin Seniors
by Amena Hajjar and Laura Sherman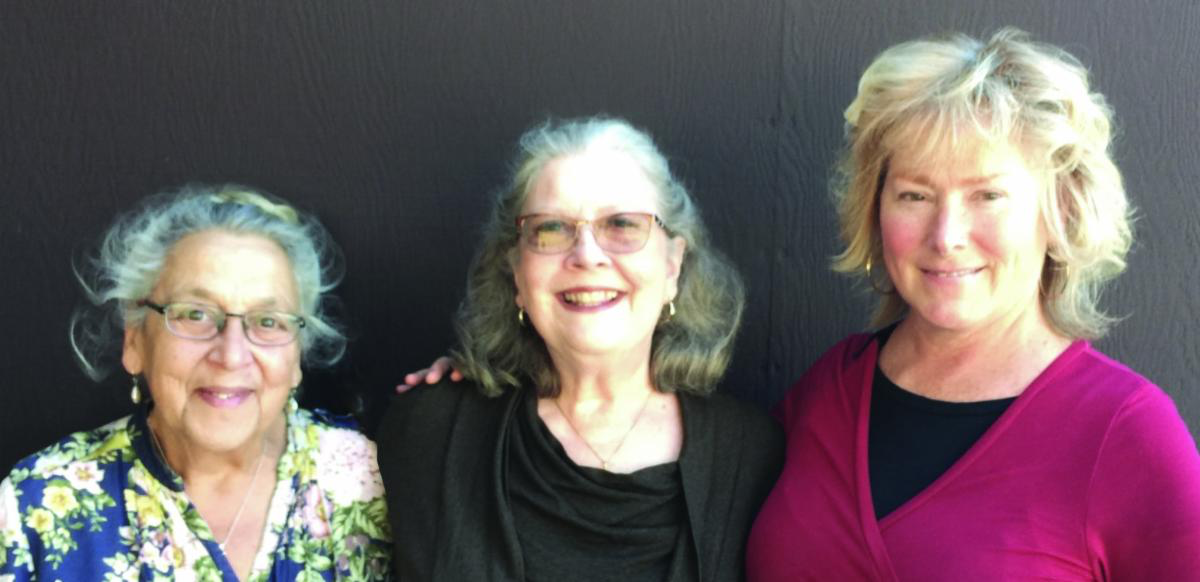 A semester class in community health nursing, offered to fourth year nursing students attending Dominican University of California, under the direction of Professor Ellen Christiansen, is work she is proud of. Ellen has ties with West Marin through her past employment with Coastal Health Alliance and although she no longer works or lives in West Marin, she is still very fond of the area. Therefore, when she needed a community-based clinical experience for her nursing students, she thought of approaching Laura Sherman of West Marin Senior Services to see if her nursing students could perform home visits to Laura's clients. Dave Cort of the San Geronimo Valley Community Center kindly performed introductions stating, "Laura Sherman is fantastic. She is one of the best Care Managers we have ever had." That was five years ago, and Laura and Ellen have been collaborating ever since.
Dominican University's Student Nurse Community Health Program has grown into a successful, locally-based collaboration that has served over 150 older adults in West Marin. Laura Sherman is WMSS' Certified Manager of Care who has worked as the agency's San Geronimo Valley and Nicasio Care Manager over 14 years. She radiates with joy as she describes the Program's evolution, a highlight in her tenure at WMSS. "The program raises the quality of service we can provide to older adults who live at home with complex chronic conditions," adding "It is a bright jewel in this agency's crown!"
Laura elaborately explains the Dominican campus patient home visit simulation lab where thorough imitative home settings, along with elderly professional actors create real life situations. Clinical faculty observes the students through a two way mirror. Students confront unknown patients in dramatic mock-life skits. This training informs the student nurses' actual in-home visits with community-dwelling older adults. Ellen collaborates with Laura and Susan Deixler (WMSS Care Manager for Pt. Reyes Station & Inverness) to match nursing student pairs with WMSS clients.
"Our client told us that our visits are the highlight of his week. He bought a bouquet of flowers to decorate for our visit. It was the sweetest thing. It puts into perspective how important these visits are to him because he has no family…"

– anonymous student nurse journal entry
This semester sixteen student nurses visit older West Marin adults who live with chronic complex conditions. Students check vital signs weekly. They also explain medications, discuss nutrition and help set wellness goals. Each senior's health markers are measured, monitored, pseudonymously documented and clinically reviewed by Professor Christiansen. Key concerns are shared with Laura and Susan.
A retired nurse in her eighties and who participates in the Student Nurse Community Health Program stopped by the WMSS Volunteer Center last week. Laura asked the nurse what she thought of the two student nurses currently visiting her. The nurses eyes twinkled and said, "Oh, these students know far more than they think they do. People think nurses mean going to the hospital. No! Nurses mean the whole wide world, and I love to watch these students' confidence build and build during our visits!"
"The experience is much more rewarding than I imagined. I developed a close connection with my client. I would say our biggest challenge is to say goodbye at the end of the semester."

– anonymous student nurse journal entry
Each year, the Dominican student nurses present their community service learning findings by identifying strengths, assets, needs and challenges of West Marin's aging population. More touching is to observe the students' expanded confidence and proud presentation of students' broadened sense of seniors' needs outside a doctor's office visit, the connection between their service learning and their clinical settings, and their role as citizens.
The students usually end their presentation right on time so they can scurry off for their final home visit. They bring bouquets of flowers, trinkets and homemade goodies to share with the seniors who have taught them so much this past semester.